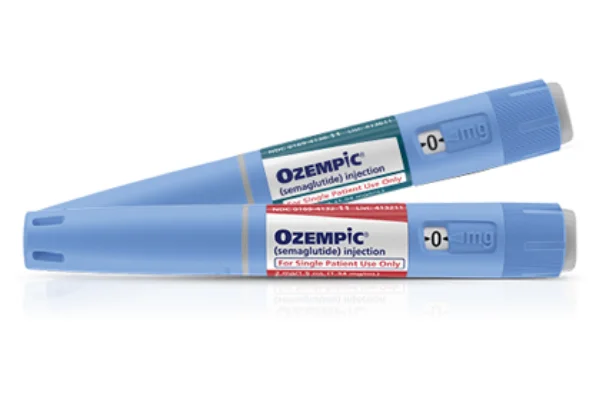 Both contain semaglutide, which is a GLP-1 analogue and are produced by Novo Nordisk pharmaceutical company based in Denmark. Ozempic® and Wegovy® are delivered as weekly injections. GLP or Glucagon Like peptide is a hormone produced by the intestines in response to food intake and helps in
Controlling appetite
Controlling blood sugar
Control intestinal movement
As both medications are GLP-1 analogues, they have similar side effects and safety profile.
Ozempic®
Ozempic® contains Semaglutide and is licensed for blood glucose and weight management in people with type 2 Diabetes mellitus. The starting dose is 0.25mg and is gradually titrated up to 1mg.
While Semaglutide (which is in Ozempic) is currently an off-label treatment for weight management, NICE (National Institute for Health and Care Excellence) in the United Kingdom recommended it for obesity treatment in February 2023. This means that Semaglutide (marketed as Wegovy) will soon be licensed and will no longer need to be prescribed off-label.
SUSTAIN research study showed that in patients with type 2 diabetes at high cardiovascular risk, the rate of first occurrence of death from cardiovascular causes, nonfatal heart attack and stroke was significantly lower in those receiving Ozempic® compared to those patients receiving placebo. To read more about further benefits of Ozempic®
Wegovy®
Wegovy® has been approved by FDA for chronic weight management along with life style interventions. The top dose of this weekly injection which contains Semaglutide is 2.4mg.
In the STEP 1 study, participants who were overweight or obese and were given  2.4 mg of Semaglutide once weekly injection in addition to lifestyle intervention had a sustained, clinically relevant reduction in body weight.
We still do not know if Wegovy®, which is higher dose of Semaglutide could be used in people with Type 2 debates who do respond to Ozempic® 1mg.